Lifestyle
MONEY! Guess How Much Your Favorite Singers Are Worth?!
By
|
Out of the thousands and thousands of bands out there it is almost impossible for yours to make it to the top, let alone enough money for a comfortable living. The top of a major headline tour, the top of Warped Tour, or the top of the Billboard charts. Many people often wonder though how much some of their favorite bands are worth and while we couldn't find exactly that, we did find some about how much some of the big name singers for some of these bands are worth. It will probably blow your mind with how much money it is due to these guys have made a career out of screaming into a microphone. Well, maybe they started out screaming into a microphone, but hey, if it can make ya some serious cash one day then go for it! So here it is, our list of how much some of your favorite singers are.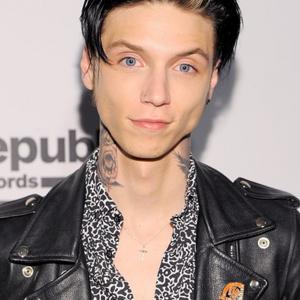 Andy Biersack
$4,000,000
We all know Andy from his powerful vocals in the band Black Veil Brides. The band has gotten crazy popular in the early 2010's selling out massive venues across the world. He is only 26 years old and doesn't seem to be slowing down at all anytime soon. His most recent venture was a solo record under the name Andy Black in 2016.
Danny Worsnop
$2,000,000
Danny became a very popular and yet infamous figure in the metalcore scene back in 2009 when Asking Alexandria dropped their debut "Stand Up And Scream" album. He essentially moved his life along with the rest of the band to the USA to be able to make it in music because the USA is where you make your money touring. The band struck gold and during this time Worsnop had issues with addiction which he has now overcome. He just released a new solo album as well earlier this year entitled "Long Way Home", he is also 26 and has had a full career. I'm 27 and now sitting here wondering what am I doing with my life…
Oli Sykes
$2,000,000
Oli Sykes is a little bit older than the previous guys mentioned, but he knows exactly what he is doing. Bring Me The Horizon has sky rocketed into mainstream stardom with songs on the radio and a headlining tour with Underoath and Beartooth currently making it's way across the USA. They 2015 offering "That's The Spirit" finds the band in a new light with dropping the super heavy side early fans have come to love with the new stuff on the way now getting even weirder.
Kellin Quinn
$2,000,000
Another 2mil club member but trust me, I wouldn't be complaining if I had that kind of money. Kellin has been a staple in the scene for his unique upper register. His good looks and smooth vocals have awarded him legions of fans and stacks of cash too it seems.
Jeremy Mckinnon
$2,000,000
Jeremy Mckinnon has become an icon in the alternative scene. A Day To Remember has gone where bands of the heavier variety only dreamed of going not too long ago. Radio hits, MASSIVE tours, mainstream shows with bands like Neon Trees, and a #1 record in "Bad Vibrations" have set him up to be the standard. Not to mention his band won a huge lawsuit against their former label, Victory Records, which for a band to do that is rare and shows the type of power and influence this man has.
Information regarding the net worth was gathered via www.celebritynetworth.com